Whew, two blog posts in one day? What am I, some kind of blogachiever or something? Anyway, I just visited a blog I have been to several times before, but today I noticed that she was creating this really fun blog carnival... on a whim, I decided to participate. Why did I DO that? I mean, like I really need another blog to read... but anyway, where was I? Oh yeah, she is doing this fun blog carnival and I wanted to jump in on it and you might just be interested in it yourself. Go have some fun with Lynette at "
Dancing Barefoot
". And participate in Getting to Know You, if you feel so inclined. And even if you don't participate, you can still go check out all the other fun, she-she people that are actually participating... you might just find someone you love over there. :) Just click on the link below and then click to your hearts content while you get to know lots of other folks out there in Bloggyville.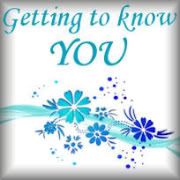 Oh yeah, and since it's still Monday, might I add that I did NOT make it through a $200 trip to the grocery today with BOTH my pre-schooler AND my 2 year old in tow. I did not accomplish this by an ingenius game I thought up on the way into said grocery (whose employees all wear green vests.) I gave them a box of Jelly Belly candy and told them that they were "invisible pills." Every time they saw someone wearing green they needed to take a pill because today all pirates were wearing green. If a Pirate saw them before they took their pill, we'd be pillaged and made to walk the plank. They did a most excellent job of playing the game and you would not believe how many people were wearing green today (besides said employees.) And so what if they ate so much sugar that they ruined their lunch... there were NO tears at the grocery! :) I call that one successful Monday!
My verse for the day is Song of Songs... the entire book. Seriously, it's only like 7 chapters long and if you read it in The Message translation of the Bible, it's a beautiful love story that will make you just want to squeeze your hubby too tight!